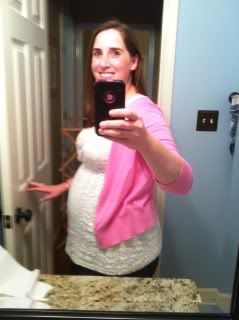 We are at 25 weeks and going strong! I am happy to say that I have no complaints in this pregnancy. My little girl is kicking away and moving around so much. I absolutely love feeling her. Bryant finally was able to feel her little kick last week. He was so cute. His mouth just gaped open and he shouted that she just kicked him right in the hand!
My sisters got to see her move. They watched my stomach intently last weekend until it bounced. They didn't get to feel her move though.
I went to see the doctor last week and got a great report. I can't believe that we'll get to see her face in 15 weeks. It's unbelievable. I feel so blessed to be her mommy.